Always Innovating
Keeping up with industry trends is a prerequisite for success, but it is more advantageous to establish those trends. CDC reflects today's global culture, and a worldwide perspective is innate in the personality of the company. While every project is unique, our "triple bottom line" approach to resort development remains constant- the balance of People, Planet & Profit. This thinking permeates the company's decision-making process and is a key benefit to its development and investment partners.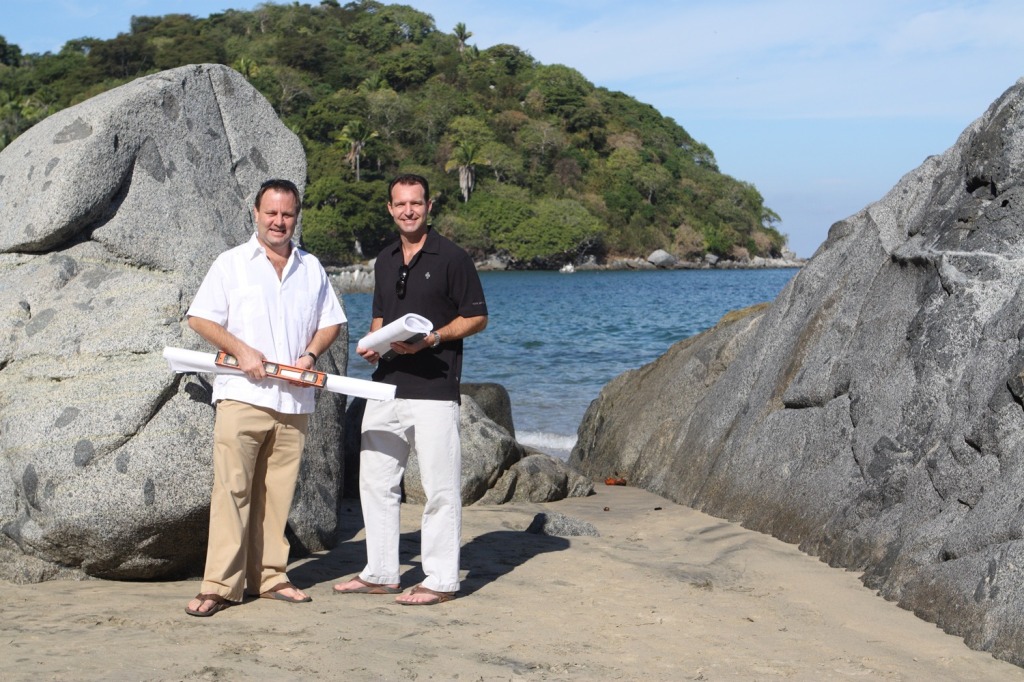 Brett K. Ellsworth, Managing Partner
Brett leads CDC's development efforts in Mexico from CDC's Puerto Vallarta office.
Since co-founding CDC in 1997, Brett has served as its President and is responsible for managing all aspects of identifying and successfully executing new business and development opportunities which includes managing some or all of the following phases: project identification, team building, project financing/capital raising, design, permitting & entitlement, construction, marketing and sales, on-going property management and disposition. CDC performs said services as the developer of its own projects where CDC functions as the sponsor/principal, such as its Punta Sayulita resort community, and occasionally as a co-developer with third party land owners, developers and owners of operating resort assets that seek CDC's expertise in these areas, an example of which is the very successful Punta Mita project located near Puerto Vallarta where CDC worked closely with a significant Mexican land owner/developer to create Mexico's first private resort community, anchored by the Four Seasons and St. Regis resorts.
While Brett is active in CDC's projects in the United States and other resort destinations outside of the United States, he is principally responsible for CDC's resort development projects located in Mexico.
Prior to co-founding CDC and opening its first office in Mexico Cityin 1997, Brett worked for three years in Guadalajara with Grupo Situr, Mexico's largest resort real estate developer and hotel owner/operator at the time. With Grupo Situr Brett worked in all areas of the company including: finance, accounting, legal, land planning, architecture, construction and international marketing and sales.
Prior to relocating to Mexico in 1993, Brett worked as a Real Estate Consultant in the Hospitality Practice Area of the E&Y/Kenneth Leventhal Real Estate Group.
Brett instills in the company a strong commitment to giving back to the communities and resort destinations in which CDC works, always aiming to leave a positive social and environmental impact through numerous social, educational and environmental initiatives. As part of its Punta Sayulita project, CDC created the non-profit "Punta Sayulita Foundation" which organized the annual "Punta Sayulita Longboard & Stand-Up Paddle Surf Classic & Benefit Concert" attracting some of the world's top professional longboard and stand-up paddle surfers and provided a free live concert on the beach for the entire town to enjoy. The annual event has raised funds for the Foundation's environmental and community initiatives at a local level. Additionally, CDC was the co-founder and principal sponsor, together with the international law firm of Baker & McKenzie, of the annual "Mexico Resort Development Conference" whose Key-Note Speakers have included: Jack Nicklaus, Lorena Ochoa, Laurence Geller (Strategic Hotels), Mark Harmon (Auberge Resorts), John McCarthy (former CEO FONATUR), Jeffrey Davidow (former U.S. Ambassador to Mexico) and Dr. Jorge Castañeda (former Mexican Secretary of Foreign Relations).
Brett graduated from the University of Southern California in Los Angeles with a Bachelor's degree in Business Administration and Finance in 1990and then went on to earn a Master's degree in Real Estate Development from the same university in 1992. He is fluent in Spanish, is a frequent speaker on the subject of resort real estate development and investment, is a licensed real estate salesperson in California and has been a very active member of the Urban Land Institute (ULI) since 1992. Brett is currently a member of ULI's Recreational Development Council, is the Co-Founder and former Co-Chairman of the ULI Mexico District Council.
Brett lives in Puerto Vallarta with his wife, twin daughters, their lab, Coco and their rescued cat, Rayas.

Kevin Roberts, Managing Partner
Kevin has been a partner with CDC since 2000. Prior to joining CDC, Kevin was engaged in the private practice of law and was associated with a large multi-practice law firm in Los Angeles, California.
Kevin has participated and overseen development activity of various CDC resort/residential projects including the 1,500-acre Punta Mita Resort community located outside of Puerto Vallarta, Mexico. In 2000, he served as Vice President of CDC's wholly owned subsidiary, Punta Mita Properties, the exclusive residential sales and marketing entity responsible for the marketing and sale of the Punta Mita community wherein Kevin participated in the management and execution of residential sales and marketing efforts for the Punta Mita Project. In 2006, Kevin became a Partner and Vice President of Punta Sayulita Ventures, LLC and an officer of Punta Sayulita Ventures S. de R.L. de C.V., the development entity responsible for the 30-acre Punta Sayulita residential community located in Sayulita, Mexico which is actively in development. Kevin is engaged in all aspects of the management and operations for the Punta Sayulita development.
Kevin manages and is responsible for all aspects of CDC's corporate and legal transactional activities for CDC's business and real estate development activities including the oversight and management of CDC's outside legal counsel.
Kevin received a B.A. in Political Science with an emphasis in International Business Relations and Urban Planning and Development from the University of California, San Diego in 1993 and a J.D. from California Western School of Law in 1998.
Kevin is a member of the State Bar of California and the Urban Land Institute. Kevin is a licensed Real Estate Broker in the State of California.
Kevin is an avid surfer, Stand-Up paddler and active in various environmental and community efforts. Kevin co-founded the Punta Sayulita Foundation and served as its Managing Director and was responsible for overseeing the fundraising efforts and the foundation's environmental and youth sports programs. Kevin also founded and served as the President of the Punta Sayulita Surf Classic, a non-profit international surfing and SUP event supporting the Reef Check & Punta Sayulita Foundations. Kevin also was instrumental in founding the Reef Check Eco-Diver program for the Bay of Banderas which conducts periodic reef surveys of local coral and rocky reef systems.
Kevin lives in Tiburon, CA with his wife, 2 daughters and Golden Retriever, Hudson.

David G. Ellsworth, Founder 1941 - 2006
David achieved dramatic success as a leading international real estate attorney prior to co-founding CDC in 1997. He was often called a "visionary" and a "pioneer" by his peers, especially for his extensive work in Mexico and other countries around the world.
Through more than four decades of foresight and leadership, David, was among those individuals influential in shaping the success of the international resort real estate industry of today. He worked in investment banking, marketing and sales, and development services roles with numerous private-sector real estate development groups, as well as with US and foreign investors and developers, on projects in the USA including Hawaii, Mexico, Latin America, the Caribbean, Austral-Asia, the Pacific, and Europe. David was a respected attorney and a former Sr. Partner and Chairman of the Real Estate Section of two of the world's largest international law firms of Baker & McKenzie and Morgan, Lewis & Bockius, in addition to maintaining his continuous commitment to his real estate investment banking, development and real estate sales and marketing activities.
David was well known as a spokesman for and authority on the resort development industry, and was a noted writer and speaker on domestic and international resort real estate development topics. He advised governmental agencies and elected officials in crafting legislation on related issues such as regulatory compliance questions involving the resort development industry, vacation ownership, casino gaming and land use. Under his guidance CDC achieved a leading-edge position in facilitating equity capital investment as well as the debt financing for projects in the resort/residential, leisure, entertainment and gaming real estate segments worldwide, as well as the development and sales and marketing of such properties and their components.
Within the residential marketing and sales division of CDC, David was responsible for conceptualizing and strategizing the development of complex domestic and international "cross-border" residential marketing and sales programs including the implementation of operations that specialize in the on-site and off-site sale of the "retail" real estate products within private residential/resort communities. This includes CDC's ownership and management roles in the Prudential International Resorts and international sales company, and within the Punta Mita Resort near Puerto Vallarta, Mexico, through CDC's affiliated marketing and sales company, Punta Mita Properties.
Mr. Ellsworth was the Vice-Chairman and a member of the Recreational Development Council of the Urban Land Institute (ULI), as well as a past member of the Executive Group of the Community Development Council. In July 1988 he was appointed by the President of the Urban Land Institute to serve as a member of the International Committee of the ULI. Additionally, he was an active member of the International Society of Hospitality Consultants (ISHC), a member of The National Club Association and the California State Club Association, and served as a Director of the latter. Mr. Ellsworth was also a former director of the American Resort Development Association (ARDA) based in Washington, DC, and served as a member of the Board of Commissioners of the Los Angeles County Housing Authority for eight years, and as Chairman and Vice Chairman of that Board for seven of those years. Further, Mr. Ellsworth was a member of the Executive Committee and Board of Directors of The Lusk Center for Real Estate Development of the University of Southern California for seven years.